When it comes to retail credit, you can't just jump right in. You have to follow the process.
Retail Credit Can Be a True Gift to Your Business Credit Score
It is the season for gifts of all kinds. Who doesn't love gifts? Getting and giving are a big part of the holidays. This is also a good time of year to think about how to start growing your business. Retail credit is a great tool that can help when you are ready for your business to explode, but it is a gift. As with any gift, you have to unwrap it before you can use it.
You Can't Open the Gift if You Don't Know the Rules
You know how you play all the gift giving games at Christmas? Some call it "Dirty Santa," while others have different names for the same game. It can be called the white elephant gift exchange. In New England, it's the "Yankee Swap". You draw a number and can choose a gift when it is your turn, or you can steal a gift from someone else.
The rules are slightly different for each one. Some say you cannot steal a gift if it has already been stolen twice. Some say you can only steal once per person. It is impossible to play if you don't understand the rules. The same is true for the retail credit tier. If you do not understand the rules, you can't open the present. What rules? The rules of business credit of course.
Learn more here and get started with building business credit with your company's EIN and not your SSN.
The Rules of the Game
You cannot just run up to the tree, grab a gift, and open it. You have to wait your turn. That means you cannot start out with applying to the business credit tier. Your business has to established business credit before it will get approved for credit at this level.
Rule #1: Set Up Your Business as a Separate Entity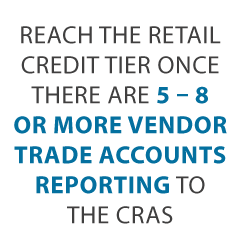 Unless you are playing as couples, you do not want to share a gift with your plus one to the party. You want your own. To have business credit that will allow you access to the gift of the retail credit tier, you must set up your business as a separate entity.
To start, you will need to get an EIN from the IRS. You will also need to incorporate in some way. You can choose to set up your business as a corporation, an S-corp, or an LLP.
This will help establish your business as its own separate entity not attached to your personal credit. It will also offer some protection so that you will not be personally liable for business debt.
Other things you need to do to ensure your business will have its own credit score separate from your personal score include:
Setting up a business bank account
Getting a toll-free number for your business and have it listed
Create a professional website for your business
Have a professional email address for your business that is not your personal address
Set up an actual address that is not your own
Rule #2: You Must Draw a Number
In the gift exchange games, you cannot choose a gift until it is your turn. You do not know what your turn is until you draw your number. When it comes to business credit, think of the vendor credit as the drawing numbers phase of the game.
Once you have your business established as a separate entity, you need to have credit that is being reported. This is how you get a credit score. No credit is equal to bad credit in the eyes of lenders.
I am sure you see the problem here. You start out with no credit, but you have to have credit to get credit.
To do this, you have to start with the vendor credit tier. These are starter vendors that will offer invoices with net 30, net 60, or net 90 terms. They then report your payments to one of the three credit reporting agencies. These agencies are Dun & Bradstreet, Equifax, and Experian.
Rule #3: Pay on Time
When it's your turn you have to play. Make your decision to either choose a gift or take someone else's. If you don't play when it is your turn, though, you will be empty handed.
Once you have a foot in the door with the vendor credit tier, you have to pay on time. That is how you play the business credit game. If you don't, your efforts will be pointless. There was no reason for you to even come to the game.
Once you make a few purchases with starter vendors you can ask for pay later terms. Make sure you consistently pay on time. If it is net 30 you must pay the invoice within 30 days. Failure to do so would cause the information the vendors report to credit agencies to harm, rather than help, your business credit.
Choose Your Gift
Now, you have your number and you are ready to choose. The packages are all so pretty and different! There are big packages, small packages, fancy packages and plain packages. Making the decision even harder is the knowledge that you cannot really tell what is inside just by looking at the wrapping.
Following is a list of some of the most popular options in the retail credit tier. There are literally hundreds of options. However these are some of the best when it comes to business purchases. Once you have 5 to 8 vendors reporting to the credit agencies on your behalf, you can begin to apply for these.
When you apply for business cards in the retail credit tier, your limits are typically much higher than when you apply for a personal credit card. Remember, details such as eligibility requirements, bonuses, and rates change frequently. Check with the credit provider directly for the most current information.
Learn more here and get started with building business credit with your company's EIN and not your SSN.
Dell Credit
You can get up to $50,000 in credit with Dell to purchase electronics. Dell credit is through WebBank. The maximum interest rate is 24.99%. When you apply, they will want to see that you have been in business for at least 6 months and that you have a Paydex with Dun & Bradstreet of at 78 or higher.
You can use credit at Dell to purchase a computer for business use if nothing else.
Apple Credit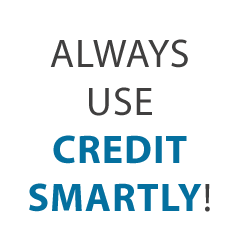 Business credit with Apple is through Barclay. There is no annual fee, but the rewards are only good if you are purchasing Apple products or using it for dining out. I suggest only using Apple credit to buy Apple products such as a business cell phone or an iPad for the business.
There are many ways to use an iPad or iPhone to accept credit or debit card payments now also. That could be helpful.
They will need your birthday, SSN, and mother's maiden name, along with an identifying number such as a driver's license number. If you have your business established and have followed the steps for building credit with the vendor credit tier, this information will be for identification purposes only. They will not use it for a personal credit check.
Your business credit will be what affects your card.
Office Depot Credit
Office Depot credit it a great way to update your office and build business credit at the same time. Their credit, run through Citi, offers special financing for certain purchases. The typically means reduced interest or zero interest for a set period of time.
For the application, they will want to know the legal business name or DBA, SSN for identity verification, and the following business information:
Number of years in business
Annual revenue
Number of employees
Purchase volume
Staples
You can use Staples business credit for the same general things that you use around the office. Cleaning supplies, printers and paper, pens and pencils, you get the point. They need to see the same information listed above for Office Depot, and the interest rate varies from 14.99% to 23.99% based on credit worthiness.
Costco Business Credit Card
The Costco business card is through Citi as well. There is no annual fee for Costco members and the rewards are pretty good. They include:
4% cash back on eligible gas purchases
3% back on restaurant and eligible travel purchases around the world
2% back on all Costco purchases in warehouse and online
1% cash back on all other purchases
If you are a business that can find a lot to buy at Costco, uses a lot of gas, or hosts business meetings at dining establishments often, you could easily earn back your membership cost plus some in a year.
The thing to remember is that your cash back doesn't actually come in cash. You will receive vouchers that you can redeem at Costco.
To apply for the Costco business credit card, you will need to provide annual revenue. In addition, they will need to know the type of legal business structure, years in business, country of formation, and Costco member ID number. Of course, all the identity verification information will be necessary as well, including your social security number.
Remember that details such as interest rates, minimum credit scores, other requirements, terms, and minimum and maximum amounts can change frequently. Always check with the company directly for the most up to date information.

Make Your Choice
After taking stock of all the options you need to make your choice. It can be so hard to do, but you have to start somewhere. Here is the main difference between a gift exchange game and choosing your first card when opening the gift of the retail credit tier. You can choose only one gift, but you can choose more than one card. In fact, you should.
At this point you are simply trying to choose the best place to pull the first string of ribbon, or the best place to make the first rip in the paper.
Learn more here and get started with building business credit with your company's EIN and not your SSN.
Honor Your Gift
How would you feel if you gave someone a gift and they tossed it to the side? It is always good to know that the recipient of your gift uses it, enjoys it, and that is adds value to their life in some way. Even the smallest, most simple gifts such as warm socks or a new coffee mug can be thoroughly enjoyed.
When it comes to the gift of the retail credit tier, you need to honor it by using it. The longer you make consistent, on-time payments to all of your accounts in the retail credit tier, the stronger your business credit will become.
Use Your Gift Properly and Wisely
A gift giver might not mind if you put pencils in the coffee mug, but you might disappoint them if you use those new cozy socks as dust rags without them ever touching your feet. In the same way, you need to use the gift of the retail credit tier property and wisely.
Do not buy things you don't need. Just because you can buy something doesn't mean you should. Also, same song, different verse, pay on time! There is just no way around this one. The only way the gift of the retail credit tier will do you any good is to make your payments on time.
Not doing so could actually harm your business credit. Similar to if you choose to drink that bubble bath you got in your stocking rather than soaking in it. Don't do that.
Also, keep an eye on your business credit once it starts growing. Take care of it, as you would any gift. Credit monitoring is easiest with a monitoring service.
Retail Credit is the Gift that Keeps on Giving
This season, begin to unwrap the gift of the retail credit tier. Start with the rules in the vendor credit tier. Then, when that beautiful retail credit tier falls in your lap, open it with gusto. Revel in it. If you use it wisely, you will see your business credit soar to new heights, and your business will have the funding it needs to grow more than you ever imagined.
Credit Suite offers a complete finance suite that can get you started playing the game.
Check out how credit from the retail credit tier will help your company.