Getting Business Credit with Bad Personal Credit
It's infuriating. Getting business credit with bad personal credit will always be an issue. There's no refuting that. But it's not unbeatable. You can get loans for your business even if your credit score is a stinker.
Getting Business Credit with Bad Personal Credit: Personal Guarantees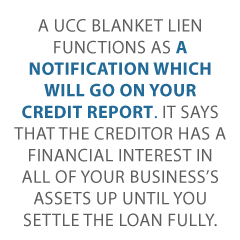 One way of getting business credit is by granting a personal guarantee. This personal guarantee can originate from you, but it can also come from an investor. If a family member (your semi-rich uncle, say) would like to have a portion of your new business, why not offer a chunk in exchange for them giving a personal guarantee to a lender or credit issuer?
Personal guarantees do come with a degree of risk. If your business does not succeed, then your investor could be left holding the bag if you default on loans and the like. For that reason, asking somebody to grant a personal guarantee for you is not something which either of you should take lightly.
Getting Business Credit with Bad Personal Credit: UCC Blanket Liens
Without having a personal guarantee, some loan providers will secure a UCC blanket lien on your business. A UCC blanket lien functions as a notification which will go on your credit report. It says that the creditor has a financial interest in all of your business's assets up until you settle the loan fully. Thus, there may be unfortunate repercussions if you have to default. Also, for truly bad credit risks, your loan provider could demand both a UCC blanket lien and a personal guarantee.
Getting Business Credit with Bad Personal Credit: Unsecured Credit
A much better option is unsecured credit. Unsecured just means you are getting credit without putting down any funds (with secured credit, you put down a certain sum and can only borrow as much as that sum).
So, how do you get unsecured credit? You get it by putting up collateral for your loan. Don't imagine you've got enough for collateral? Reconsider. You may have any number of assets which may be used as collateral for a business loan.
Getting Business Credit with Bad Personal Credit: Personal Assets and Securities-Based Financing
You may have a retirement fund, like a 401 (k). Or your semi-rich relative might give you (or will to you) stocks or bonds. You might own your residence. All these assets may be used as collateral for unsecured credit, whether that's in the form of an unsecured business loan or a credit card.
Getting Business Credit with Bad Personal Credit: Current Company Assets
Your organization may also have assets which you could use as collateral. Company assets can include land – does your business own land, or a building, or a portion of a building? You can use this real estate as collateral.
It can also mean equipment, if you own it free and clear, although this has to be significant equipment. You won't have the ability to combine a bunch of smaller equipment. This is referred to as an equipment sale leaseback– you are basically selling your equipment to the loan provider and leasing it back from them for the cost of your loan payments.
How about business inventory? You can use inventory valued at $500,000 or more and use it for a credit line worth 50% of your inventory's value for what's referred to as inventory financing. Or if you have more like $300,000 worth of inventory, you can get an inventory loan for $150,000. That is, the loan to value, AKA the cost, is 50%.
Getting Business Credit with Bad Personal Credit: Anticipated Company Assets
You could also use your expected profits as collateral. Let's say your business has payable billings out to your customers. You may have granted generous payment terms to sweeten a deal and get the sale. Or possibly your client is just plain behind in paying you back. With accounts receivable factoring, you may be able to get a good 80% of your outstanding receivables.
But you must be in business for at least a year and the receivables have to be with some other company. So that means, not with an individual.
Getting Business Credit with Bad Personal Credit: How to Get Business Credit
So we've looked at a number of options. But what about business credit building? It's the best way to get out of this jam.
Because small business credit is separate from consumer, it helps to secure an entrepreneur's personal assets, in case of legal action or business insolvency. Also, with two distinct credit scores, an entrepreneur can get two different cards from the same merchant. This effectively doubles purchasing power.
Another benefit is that even new ventures can do this. Going to a bank for a business loan can be a formula for frustration. But building corporate credit, when done properly, is a plan for success.
Personal credit scores depend upon payments but also additional factors like credit utilization percentages. But for corporate credit, the scores truly just depend on if a small business pays its bills on time.
The Process
Establishing corporate credit is a process, and it does not occur automatically. A company needs to proactively work to develop business credit. Nonetheless, it can be done readily and quickly, and it is much swifter than establishing personal credit scores.
Merchants are a big component of this process.
Undertaking the steps out of order will cause repetitive denials. No one can start at the top with corporate credit.
Company Fundability™
A corporation has to be Fundable to lending institutions and vendors. As a result, a corporation will need a professional-looking website and e-mail address, with website hosting bought from a supplier like GoDaddy.
Additionally company phone numbers need to have a listing on ListYourself.net.
Additionally the business phone number should be toll-free (800 exchange or similar).
A small business will also need a bank account devoted purely to it, and it needs to have all of the licenses essential for operating. These licenses all must be in the particular, appropriate name of the company, with the same corporate address and telephone numbers.
So bear in mind that this means not just state licenses, but potentially also city licenses.
Working with the Internal Revenue Service
Visit the Internal Revenue Service website and acquire an EIN for the small business. They're totally free. Choose a business entity like corporation, LLC, etc.
A small business can get started as a sole proprietor. But they should change to a kind of corporation or partnership to limit risk and make best use of tax benefits.
A business entity will matter when it comes to taxes and liability in the event of a lawsuit. A sole proprietorship means the entrepreneur is it when it comes to liability and tax obligations. Nobody else is responsible.
Setting off the Business Credit Reporting Process
Start at the D&B web site and get a free DUNS number. A DUNS number is how D&B gets a corporation into their system, to produce a PAYDEX score. If there is no DUNS number, then there is no record and no PAYDEX score.
Once in D&B's system, search Equifax and Experian's web sites for the company. You can do this at https://www.creditsuite.com/reports/. If there is a record with them, check it for correctness and completeness. If there are no records with them, go to the next step in the process.
In this way, Experian and Equifax will have activity to report on.
Trade Lines
First you ought to build trade lines that report. This is also referred to as vendor accounts. Then you'll have an established credit profile, and you'll get a business credit score.
And with an established business credit profile and score you can begin getting more credit.
These sorts of accounts have the tendency to be for the things bought all the time, like outdoor work wear, ink and toner, and office furniture.
But first off, what is trade credit? These trade lines are credit issuers who will give you initial credit when you have none now. Terms are often Net 30, versus revolving.
Therefore, if you get an approval for $1,000 in vendor credit and use all of it, you need to pay that money back in a set term, like within 30 days on a Net 30 account.
Details
Net 30 accounts need to be paid in full within 30 days. 60 accounts need to be paid completely within 60 days. Compared to with revolving accounts, you have a set time when you have to pay back what you borrowed or the credit you used.
To start your business credit profile the proper way, you ought to get approval for vendor accounts that report to the business credit reporting agencies. Once that's done, you can then make use of the credit.
Then repay what you used, and the account is on report to Dun & Bradstreet, Experian, or Equifax.
Vendor Credit – It Makes Sense
Not every vendor can help like true starter credit can. These are vendors that will grant an approval with a minimum of effort. You also want them to be reporting to one or more of the big three CRAs: Dun & Bradstreet, Equifax, and Experian.
Monitor Your Business Credit
Know what is happening with your credit. Make certain it is being reported and fix any errors as soon as possible. Get in the habit of taking a look at credit reports. Dig into the details, not just the scores.
We can help you monitor business credit at Experian, Equifax, and D&B for 90% less. Update the data if there are inaccuracies or the information is incomplete.
Fix Your Business Credit
So, what's all this monitoring for? It's to dispute any inaccuracies in your records. Mistakes in your credit report(s) can be taken care of.
Disputing credit report inaccuracies commonly means you specifically itemize any charges you contest.
A Word about Business Credit Building
Always use credit smartly! Never borrow beyond what you can pay off. Track balances and deadlines for payments. Paying off promptly and in full will do more to increase business credit scores than pretty much anything else.
Building small business credit pays off. Excellent business credit scores help a company get loans. Your lender knows the corporation can pay its financial obligations. They understand the company is bona fide.
The small business's EIN attaches to high scores, and lenders won't feel the need to ask for a personal guarantee.
Business credit is an asset which can help your business for many years to come.
Getting Business Credit with Bad Personal Credit: The Takeaways
So take into account what you and your business own, or are expecting to possess in the future. You just may have enough collateral for an unsecured business line of credit even when your personal credit is rotten. And while you're at it, work to improve your bad personal credit. Learn more here and get started in getting business credit even with bad personal credit.