Did you know you can apply for credit in your business name and it won't hit your personal credit report? You can, no matter what is happening with the economy! There's a trick to it though. You have to set your business up properly, and you have to apply with the right information. It is possible to get business credit without SSN being an issue.
Get Business Credit without SSN and Make Your Business More Fundable
When you get business credit without using your SSN, you take the first step in obtaining credit in the name of your business. That is separate credit that only affects the credit score of your business, not your personal credit score.
Of course, there is way more to separating business credit from personal credit than knowing how to get business credit without SSN, but that is definitely a place to start.
Get Business Credit Without SSN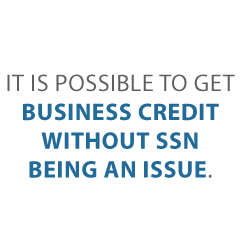 There is really no amazing trick to this. You can easily get business credit without SSN by simply using an EIN (Employer Identification Number) in place of the SSN on credit applications. That one simple step will disconnect debt taken in the name of your business from your personal debt. Again, there are a few more steps to keep it completely separate but, this is huge and very simple.
You can get an EIN for free on the IRS website. Just go to IRS.gov and apply. The process is fast. Once you have that number, you have taken the first step in building credit for your business separate from yourself. This is the pivotal step getting business credit without your SSN.
It is important to note that you may have to provide your SSN for identification purposes to help prevent fraud. However, this is different than getting credit using your SSN. If you use your social security number for identification purposes only, the debt will still not be connected to it.
Separate Your Bank Accounts
You have to open a separate, dedicated business bank account. There are a few reasons for this. First, it will help you keep track of business finances. It will also help you keep them separate from personal finances for tax purposes.
There's more to it however. There are several types of funding you cannot get without a business bank account. Many lenders and credit cards want to see one with a minimum average balance. In addition, you can't get a merchant account without a business account at a bank. The result is, you cannot take credit card payments. Studies show shoppers usually spend more when they can pay by credit card.
Kick Your Business Out of the Nest! Separate Contact Info Is a Must
Your business needs its own phone number, fax number, and address. You can still run your business from your home or on your computer. You don't even have to have a fax machine.
In fact, you can get a business phone number and fax number that will work over the internet instead of phone lines without a lot of trouble. In addition, the phone number will forward to any phone you want it to. You can simply use your personal cell phone or landline if you want. Whenever someone calls your business number it will ring straight to you.
Faxes can be sent to an online fax service, if anyone ever happens to actually fax you. This part may seem outdated, but it does help your business appear legitimate to lenders.
You can use a virtual office for a business address. How do you get a virtual office? What is that? It's not what you may think. This is a business that offers a physical address for a fee, and sometimes they even offer mail service and live receptionist services. In addition, there are some that offer meeting spaces for those times you may need to meet a client or customer in person.
Make Sure Your Website and Email Address are In Synch
What does a website and email address have to do with business funding? These days, you do not exist if you do not have a website. However, having a poorly put together website can be even worse. It is the first impression you make on many, and if it appears to be unprofessional it looks bad to lenders as well as customers.
Spend the time and money necessary to make sure your website is professionally designed and works well. Pay for hosting too. Don't use a free hosting service. Along these same lines, your business needs a dedicated business email address. Make sure it has the same URL as your Website. Don't use a free service such as Yahoo or Gmail.
Incorporate
Incorporating your business as an LLC, S-corp, or corporation is non-negotiable. It lends credence to the legitimacy of your business. It also offers some protection from liability.
Which option you choose does not matter as much for fundability as it does for your budget and needs for liability protection. The best thing to do is talk to your attorney or a tax professional.
Now, incorporation is important to business credit building. However, so is time in business. The longer you have been in business the more fundable you appear to be. Time in business starts on the date of incorporation, regardless of when you actually started doing business. That means, it is vital to incorporate as soon as possible.
Where to Start to Get Business Credit without SSN
Once you have these things in place, you can start applying to get business credit without SSN, but with your EIN. Don't just jump into credit cards. It helps to begin with starter vendors. There are a few out there.
Starter vendors are vendors that sell items you use everyday in the course of business. They will extend credit in the form of net terms on invoices without a credit check. Then, they will report payments on those invoices to the business credit reporting agencies.
If you have followed the steps, then when they report those payments, they will be reporting in your business name to the business credit reporting agencies such as Dun & Bradstreet, Equifax, and Experian. This is how you start to build your business credit score.
Get Business Credit Without SSN: What Next?
After you get enough starter vendor accounts reporting, you'll be able to apply for other types of cards and without your SSN. The key is to apply for certain types of cards in a specific order. For example, it is best to start with store cards. These are cards that are issued with a specific store name. Typically, you can only use them at that specific store or on that store's website. Examples include Office Depot and Best Buy. Some fleet cards fall into this category as well.
Fleet cards are cards that you can only use for fuel or auto repair and maintenance. It is usually easier to get approval for these cards after you have several starter vendors and store cards reporting. Examples of fleet credit cards include Fuelman and Shell.
After enough of these types of accounts are reporting to the business credit reporting agencies in your business name, with your EIN, then you can apply for general use credit cards. Those are the credit cards you can use anytime, anywhere, on anything. Usually, they have the best interest rates and rewards. They also have the highest credit limits, meaning you have instant access to the funds you need to run your business day in and day out.
Get Business Credit With SSN: A Warning
Here are a few key things to remember when you get business credit without SSN.
First, the whole point is to separate your business credit from your personal credit. Why do this? There are a few reasons. For example, you typically get a higher credit limit when you get credit related to your business with an EIN than you would with your SSN.
Another reason, however, is so that your personal credit is not affected if you have problems on your business credit report. However, you want your business credit to be strong also. The only way to make this happen is to handle your credit responsibly. Do not bite off more than you can chew. Make your payments regularly and on-time. Bad business credit is just as harmful as no business credit.
Keep and Eye on Your Business Credit
It's important to keep an eye on your business credit while you are going through this process. Once you get business credit without SSN, you'll need to keep tabs on which accounts are reporting, how many accounts are reporting, and what your score looks like. This is how you will know when it is time to apply for other types of cards.
It is also how you will know when there is a mistake. If you do see a mistake, you can contest it in writing to have it removed.
When it comes to business credit monitoring, there are a few different credit reporting agencies. The main three we have already mentioned. They include Dun & Bradstreet, Experian, and Equifax. There are others as well, but if you know what your business credit score is with the main three, you can have a good idea of what it is with any credit reporting agency.
Funding in the Meantime
It takes some time to get business credit without SSN. If you need money to run your business quickly, while you work through the process, you might consider a credit line hybrid. This is revolving, unsecured financing that allows you to fund your business without putting up collateral. Furthermore, you only pay back what you use.
It's easier than you may think to qualify. You can do so with a personal credit score that is way below what you would need to get approval for a term loan or line of credit at a traditional bank. The minimum is 685. Even if you did get approval at a traditional bank with this score, your interest rate would be much more than what is typical with a credit line hybrid.
In addition to meeting the minimum credit score requirement, you can't have any liens, judgments, bankruptcies or late payments. Also, in the past 6 months, you should have less than 5 credit inquiries, and less than a 45% balance on all business and personal credit cards. While it is preferred that you have established business credit as well as personal credit, it is possible to qualify without business credit. In fact, a credit line hybrid can help build business credit.
What If I Don't Qualify?
If you do not meet all of the requirements, there is still a chance. You can take on a credit partner that meets each of these requirements. Many business owners work with a friend or relative to fund their business. If a relative or a friend meets all of these requirements, they can partner with you to allow you to tap into their credit to access funding.
What Makes a Credit Line Hybrid A Good Option?
There are many benefits to using a credit line hybrid. First, it is unsecured, meaning you do not have to have any collateral to put up. Next, you do not have to provide any bank statements or financials. Also, interest rates can go as low as 0% for the first few months. You can put that savings back into your business.
The process is pretty fast, especially with a qualified expert to walk you through it. One other benefit is this. With the approval for multiple credit cards, competition is created. This makes it easier to get interest rates lowered and limits raised every few months.
Get Business Credit Without SSN and Have Access to Funding to Run and Grow Your Business
One of the largest parts of establishing business credit is to get business credit without SSN. If you use your SSN to apply, that account is going to end up on your personal credit report. This is the opposite of what you want. However, using an EIN instead of an SSN is not enough. You have to follow the other steps to create separation between you and your business. Then, you will be well on your way to building business credit separate from your personal credit. Now is a great time to get started.