The Equifax Data Breach Problems Have Not Gone Away
Just when everyone seems to have moved onto the next crisis, the Equifax data breach problems again rear their ugly head. This issue is not going away any time soon. And, again, the people who suffer are the consumers. The 2017 Equifax data breach problems continue.
In 2019, I updated this blog post with more current information. As you might expect, the slew of Equifax data breach problems never really went away. And they might not go away in the future, either.
The New Set of Equifax Data Breach Problems
On October 12, 2017, Ars Technica reported that there were redirects on the site, which led to spammy sites (e. g. "You just won an iPhone!") or to a download of Adobe which was anything but. Instead, the downloads were malicious and were detected as being malware by Symantec (they are the Norton people), Panda, and Webroot. Malwarebytes, Avira, and Eset also showed red flags, although for a different stage in the process.
After the recent debacle with the massive July 2017 data breach which was not reported until September, consumers should be cautious about their information online and their credit reports in particular. And not just with Equifax! Dun & Bradstreet, Experian, and TransUnion could potentially have future issues.
Recently, I provided instructions for how to set up a credit freeze due to the breach. Here are some additional steps you can take to protect yourself and your credit.
Learn How to Dispute Errors on Your Credit Reports to Try to Avoid Equifax Data Breach Problems
Just like any other calculation, sometimes your credit score is just plain incorrect, and that could be a more frequent occurrence in the face of the breach and subsequent problems with Equifax. Hence you need to stay on top of your credit score, and check what's going into it. If any charges are listed incorrectly (often as unpaid or as delinquent), then you can dispute these issues with the applicable credit reporting agency.
Disputes have to be in writing and they should be specific as to which charge you are calling into question. You will need documentation as well, so enclose a copy of any sort of proof of payment, such as a receipt or a cancelled check. Retain the originals and only send copies.
For personal credit, you can get free reports with Annual Credit Report.com. This site covers your personal Experian, TransUnion, and Equifax reports.
Equifax
You can order your business's Equifax report here. If you need to dispute your or your company's Equifax report, follow the instructions here.
If you need to dispute your personal Equifax report, go here.
Experian
Order your company's Experian report here.  You can dispute errors on your or your company's Experian report by following the directions here. For disputing your personal credit report from Experian, go here.
PAYDEX
You can get your business's PAYDEX report here and you can contact their Customer Service department (it's a part of Dun & Bradstreet, as they also generate PAYDEX reports) here. D & B's PAYDEX Customer Service phone number is here.
TransUnion
Your personal credit score is also reported on TransUnion. Get your TransUnion report here. If you need to dispute your TransUnion report, then you can do so here.
Prevent Some Equifax Data Breach Problems By Understanding Your Report
It never hurts to understand any of your business credit reports. Given the recent Equifax data breach problems, that is particularly crucial when it comes to Equifax.
How You Can Navigate and Develop your Equifax Business Credit Report and Try to Understand Any Equifax Data Breach Problems
One of the big credit scoring bureaus is Equifax. Let's take a look at an example of their reports.
Your Equifax Business Credit Report
Let's check out your actual Equifax business credit report. It is broken down into sectors.
Company Identifying Information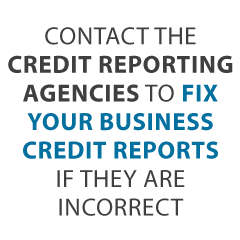 The first section is dedicated to identifying details pertaining to your company, e. g. the business name, and its address and telephone number. But it is also data such as whether your business is incorporated, and the date you first went into business.
This section will also include the number of employees and your business's annual sales. This section will additionally display if there are any alerts. So it is immediately below the date.
These first sections function as a synopsis of the balance of the report.
Scores
The next part includes two scores:
Your small business credit risk score for suppliers and
Your business failure risk score.
Public Records
Next off, the report shows public records. These involve bankruptcies, judgments, and liens, and display the amounts, if any, and the dates the most recent ones were filed. This area also shows how these matters were satisfied, e.g. if the lien was settled.
Credit Usage
The next part is a pie chart showing your firm's credit usage. It graphically shows which percent of your available credit line you are taking advantage of. It also has identifying labels which show how much each percent truly is. So this is your credit utilization rate.
Credit Report Summary
In the summary section, the report presents the quantity of your business's credit accounts, and the date these credit accounts became active. It also has any amounts past due, and your most severe status within the last 24 calendar months. This is how slowly you have paid off your debts. And it has the single highest amount of credit extended, the median balance, and the average open balance.
All of these variables are split into financial and nonfinancial categories. Your company's recent activity is also provided; this includes things like the amount of new accounts opened or delinquent accounts, the number of inquiries, and the number of updated accounts.
This section also includes a line graph which stands for a trend line showing your company's average days beyond terms by date reported. So this is for your nonfinancial accounts only. The report will point out the recent trend, and how many days, if any, your company is behind terms. This section also shows your business's payment index and contrasts it to your business's industry.
Financial Account Highlights and Details for the Most Recent 36 Months
This next segment starts off with highlights and then goes into detail). It brings in basic information on financial accounts such as commercial credit cards and leases, showing status; open and closed dates; original and current credit limits; balance; overdue amount, if any; and your company's 24-month history.
The details subsection elaborates on the highlights section by including facts such as the payment amount and frequency, and whether or not a debt is secured. So secured vs. unsecured credit matters a great deal in case of a bankruptcy. This is because secured creditors get a preferred place in line for limited assets.
Financial Account Payment Details
This next portion shows balances, past due amounts, aging categories, and dates of first delinquency, if any, for the most recent 12 month period.
Non-Financial Payment Credit Experiences and Status
The following segment shows trade accounts and the like, as well as includes balances, aging categories, and a 24-month history.
Public Records
Next are public records. This section shows more in-depth details on judgments, liens, and bankruptcies.
Decisioning Details
The next component shows the particulars of what entered into your business failure risk summary report.
Additional information
The last portion of the report shows any DBA information and any related files, plus any other more or less miscellaneous details. These can include details for instance, comments which may be in a report.
Improve Your Equifax Report
Now that you know what enters into it, you can see that some of the more vital pieces of data Equifax scrutinizes are public records, credit usage, and how you manage your financial and nonfinancial accounts. Start getting rid of your debts as quickly as possible and not going delinquent. And keep your credit utilization within reason.
Less than 30% of your total available credit is best. And start staying clear of late payments. Then you should have the opportunity to enhance your Equifax score.
2017 Equifax Data Breach Problems and How Equifax Handled It
They took the page down as soon as possible, according to the BBC. Such a rapid respond contrasts with the delays which accompanied the July breach. So kudos to Equifax for at least getting that much right.
Yet it begs the question. If Equifax management could move as quickly as it did to jettison that page, then why didn't they get a move on it when the actual breach occurred?
2017 Equifax Data Breach Problems and Equifax's Future
Without a crystal ball, there are no guarantees that any of my concerns will ever come to fruition. However, we do know that the CEO and two other top executives (the head of security and the Chief Information Officer) all retired, thereby deploying their golden parachutes.
The United States is already investigating, as is the Attorney General of Massachusetts, Maura Healey. In Georgia, a class action lawsuit has started. And you don't need to do anything in order to be considered a part of the class. In fact, there's more than one class action suit floating around. But the courts will probably, at some point, look to consolidate them all.
Equifax data breach problems are far, far from over.
And that isn't even getting into the possibility of an insider trading case. I hope Equifax's upper management enjoy hot water, because they're soaking in it.
As the Equifax data breach problems continue, I will continue to cover the matter. The New York Times is also following this story. It is far from over.
2020 Update to the 2017 Equifax Data Breach Problems
On February 10, 2020, the Boston Globe reported that Attorney General William Barr and the United States Justice Department were charging four members of China's military on suspicion of the 2017 hack into Equifax. The Attorney General noted there have been any number of data theft by the Chinese military in recent years.
These thefts have been of sensitive information such as identifying American intelligence officers. Equifax's financial data could be used to find out if any intelligence officers have money issues – and would thereby be subject to bribery or blackmail. Stay tuned as we continue to follow this story.