Get The Best Business Credit Cards for Fair Credit
Are you seeking the business credit cards for fair credit? We took care of all of the research for you. So here are our favorites.
Per the SBA, small business credit card limits are 10 – 100 times that of personal cards!
This means you can get a lot more cash with corporate credit. And it also means you can have personal credit cards at retail stores. So you would now have an alternate card at the same stores for your company.
You will not need to have collateral, cash flow, or financials in order to get small business credit.
Credit Card Advantages
Benefits vary. So make certain to choose the advantage you prefer from this assortment of possibilities.
Secure Small Business Credit Cards for Fair Credit
For Fair Credit, we like the Capital One Spark Classic for Business. It has no yearly fee. There are cash-back rewards. But you will need to have a credit score of 690 or higher.
But TAKE NOTE: the standard APR is 23.99% variable APR.
Get it here: https://www.capitalone.com/small-business/credit-cards/spark-classic/
https://creditsuite.wistia.com/medias/x7ls7b9r9y?embedType=async&videoFoam=true&videoWidth=640
Business Credit Cards for Fair Credit to Build Credit
Check out the Wells Fargo Business Secured Credit Card. It allows cardholders to obtain a credit limit of $500 – $25,000. The amount available is identical to the amount of funding you offer to secure the line.
Your purchase APR rate can be as low as a variable 13.15%. And the yearly fee is $25. But the more cards you have, the more expensive your yearly fee will be.
This card lets small business owners with bad personal credit to acquire a card to make purchases and build business credit.
But the card will just report to the personal credit agencies if you default or are overdue on payments.
Get it here: https://www.wellsfargo.com/biz/business-credit/credit-cards/secured-card/
Business Credit Cards for Low APR/Balance Transfers Business Credit Cards
For Low APR/Balance Transfers Business Credit Cards, we prefer the U.S. Bank Business Edge Platinum. So you begin with twelve months of 0% APR financing on new purchases and balance transfers. There is a 3% balance transfer cost.
Afterwards, the purchase APR is a variable 10.49% – 18.49%. And this depends on creditworthiness. There is no yearly fee. But this card is only on offer to people with great or outstanding credit. But there is no rewards program for purchases.
Get it here: https://www.usbankedge.com/credit/business-edge-platinum.do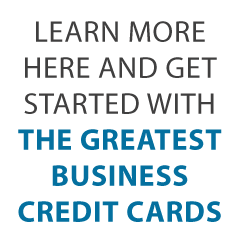 Blue Business Plus from American Express
Also, take a look at the Blue Business Plus Credit Card from American Express. It has a 15-month introductory 0% APR offer. There is no annual fee.
Right now small businesses can get double points. But this is on the first $50,000 in purchases yearly.
Get it here: https://creditcard.americanexpress.com/blue/
Your Business Credit Cards
Your greatest small business credit cards for fair credit are dependent upon your credit history and scores.
Only you can determine which rewards you want and need. So make sure to do your research. What is excellent for you could be disastrous for someone else.
And, as always, make certain to build credit in the recommended order for the greatest, fastest benefits. Check out how this will help your company get business credit cards.