Alternative Financing Can Work for You When Other Forms of Funding Do Not
What is alternative financing? And what does it mean to you?
There are several forms of business financing available for small business owners. There is a massive abundance of business credit that is also available for small businesses. But this money just isn't available at most conventional banks. Most business owners go to their bank when they need money. But banks mostly deal with SBA loans which require two years in tax returns to qualify. Hence SBA loans only account for less than 2% of all business funding in the USA, Department of Revenue.
But Why Can't You Just Get an SBA Loan?
Due to tax return requirements, no business can even apply unless they have been in business for two to three years. Plus, to get approval, everything on the personal and business side must be perfect. Some banks might give you a credit card. But the limit is 1/5 of what you could get through the right sources.
Big banks are just not the best source of money for a new business. Still, most business owners only know to go to their bank when they need money. About 89% of applications taken at those banks are then turned down. So people then believe there is no solution. But there are plenty of awesome ways to get money for your business.
What is Alternative Financing?
Alternative financing is funding for your business which is less common. You may have never heard of it. But it is out there, it is legit, and you can get it for your business. In particular, alternative financing is perfect for startup ventures.
What Sort of Alternative Financing is Out There?
Take a look at some of the alternative business financing that is available for you today, even if you are a startup business:
Startup Alternative Financing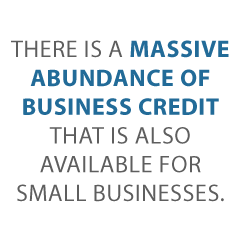 Securities Financing
With Securities Financing, you can get up to 90% of stock value with rates of 3%.
401K Financing
With 401(k) Financing, you can get up to 100% of value of 401K at rates of 5% or less.
Credit Line Hybrid
So with our Credit Line Hybrid, your approval amounts can go to $150,000. There is no consumer reporting. But there is some business reporting.
You will need to have excellent personal credit with open revolving credit. Note: you will pay a 12% success fee. And this credit will report to personal reporting agencies.
Alternative Financing if You've Been in Business for a Year or More
Account Receivable Financing
With Account Receivable Financing, you can get 80% of receivables advanced in 24 hours, rates under 2% regardless of credit.
Inventory Financing
With Inventory Financing, you can get 50% of inventory value with rates less than 5%.
Equipment Financing
And with Equipment Financing, you can get up to 100% financing, less than two months of payments, rates of 5%+.
Special Types of Alternative Financing
Commercial Real Estate
With Commercial Real Estate financing, you can get up to 65% cash-out, rates of 5% and up, good credit needed.
Book of Business Financing
So this one is for insurance agents only. With Book of Business Financing, you can get up to 120% of surrender value, 3-10 year loan, rates of 5% or higher.
Rehab Financing
So with Rehab Financing, you can get 100% of money to buy and rehab property, after-repair value must be under 65%, rates of 8%+.
Alternative Financing: Takeaways
Open your mind and expand your horizons! Alternative financing is a great way to get business funding when the big banks say no.